A few weeks ago we announced the beta release of our revisions feature for Geni Pro users. Over the last few weeks we have monitored performance of the feature and feedback from users. Both have been positive and, as a result, revisions are now available to all users.
Revisions are a new way to track changes to your tree and discover new collaborators. Revisions are built on an entirely new technology that will enable some great features in the future, including the ability to undo changes to your tree and compare different versions of profiles. Today you can view a list of revisions for a tree or profile. Each revision is a record of activity, such as a merge or a profile update. Revisions are a great way to see recent changes and find other users working on the same parts of the tree.
Profile revisions
Every time someone adds, edits, or merges a profile, a revision story is created. Profile edit stories even indicate which fields were modified. The revisions tab on each profile lists the revisions stories for that profile.

Use this list to see a complete history of the profile, including what has changed recently and who has worked on the profile.
Tree revisions
When viewing a tree, you'll see an icon on nodes with recent revisions. By default, you'll see revisions from the last 14 days. You can change the time period or hide the icon in your tree preferences.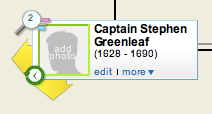 Mouse over the revisions icon on a node to see the most recent revision.
Click on the revisions icon to view the list of all revisions for that profile. 
Click the revisions icon on the bottom right of your tree to view all revisions for the tree you are viewing.
This lists recent stories for the tree you are viewing. Use the view all revisions link to view a list of all revisions for this tree.
Revisions tab
When viewing a tree, you'll see a new Revisions tab next to My Tree. This will give you a complete list of all changes to the tree you are currently viewing. View your tree and then click revisions to view a complete record of the history of your tree - from its creating until the most recent change! 
We hope you enjoy this new feature. We'll be rolling out a number of enhancements in the coming months, and we'd love to hear your feedback on what you'd like to see added to this feature.